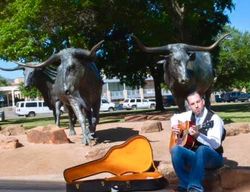 Hello, I am John Connor. I also go by my artist name, John 3. I am a songwriter and recording artist located in Waco, Texas. In my spare time I'm also a gamer and blogger. I'm also an avid collector of guitars and other stringed instruments (ukulele and mandolin).

In my late high school years I found a knack for songwriting. Then in college discovered the music program at McLennan Community College (MCC). That's when I knew I wanted to pursue music a profession. I received a degree in audio technology, then opened my own recording studio, Connor Music Productions. There I produced and recorded dozens of artists from around Central Texas. Great times!

After nearly a decade of producing artists, I then decided to shift focus to teaching and songwriting, which I absolutely love doing. As a DIY Musician, I've written and recorded five albums in five years. I love spending my time writing and recording new material in my home studio. When I'm not working on music I enjoy spending time with my family, especially my nieces Brooklyn and Katherin. Also, I got into the RC hobby and enjoy running my newly built RC truck at the local track.
I've been very thankful and blessed to be able to do what I love. Which I encourage others to chase after their dreams too.